2:56
How to Manage Categories in WordPress?
1:17
How to Edit the Profile in WordPress?
0:55
How to Logout from MilesWeb Client Area?
4:40
How to Add an Admin User to the WordPress Database from phpMyAdmin?
2:17
How to Transfer Domain from GoDaddy to MilesWeb?
1:15
How to Change the WordPress Password?
2:26
How to Configure Settings in WordPress?
1:09
How to Set Document Root Outside public_html for Addon Domain OR Sub Domain?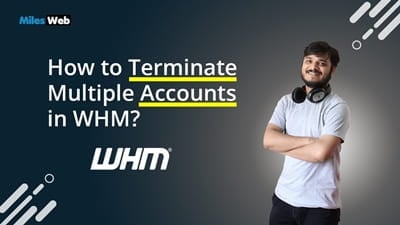 1:37
How to Terminate Multiple Accounts in WHM?
1:44
How to Change an Account Owner in WHM?
2:22
How to Reinstall Operating System from VPS Management Panel?
1:38
How to Reset Root Password from VPS Management Panel?
1:22
How to Access Console from VPS Management Panel?
4:09
How to Add a Customer in Reseller Plesk Panel?
3:24
How to Create a New Service Plan in Plesk?
1:10
How to Login to MilesWeb Client Area?